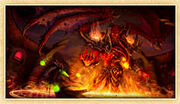 Return of the Prince
Edit
Kael'thas has finally returned to Quel'Thalas, promising final deliverance to his people. To this end he has harnessed the mortal possessor of the Sunwell's energies, Anveena. Yet many believe that the prince's exposure to fel energies has made him unstable, and that he has sought out a new master, a demon lord of the Burning Legion so terrible that even the mighty Illidan would tremble in fear at the sound of his name:
Kil'jaeden.
Characters
Edit
Ad blocker interference detected!
Wikia is a free-to-use site that makes money from advertising. We have a modified experience for viewers using ad blockers

Wikia is not accessible if you've made further modifications. Remove the custom ad blocker rule(s) and the page will load as expected.